Nysus Solutions was proud to be an exhibitor at Houstex 2019 last week in Houston, TX! A BIG THANK YOU to everyone that stopped by our booth and learned more about the products we had onsite. Lots of great ideas and future projects were discussed! Here's a recap of the products we exhibited last week:
---
Nysus Solutions Manufacturing Execution System
---
The Nysus Solutions Manufacturing Execution System (MES) is great way to bring your operation to the next level. With guided work instructions, real-time feedback, product traceability and historical reporting, this system gives you the tools you need to improve your processes and product quality.
Check out our blog post to learn more about What Is M.E.S.?
---
Pick to Light Systems
---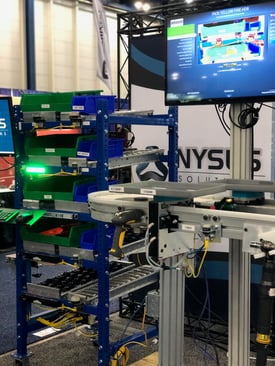 This customizable solution combines our MES software with lighted guidance to ensure correct component picking every time. With options such as racking, lights, locking drawers, sound and more, your operation will experience immediate improvement in accuracy and efficiency.
Click here to learn more about our custom software and automation offerings!
Check out our Pick to Light System
combined with Vision Inspection

---
Wire Harness Tester and Custom Automation
---
Manufacturers today are exploring the many ways that automation and robotics can be part of their processes and Nysus Solutions offers a number of automation integration solutions including:
Click here to learn how automation, such as robotic integration, can solve your manufacturing labor shortage.
---
And of course, the debut of our all-new product: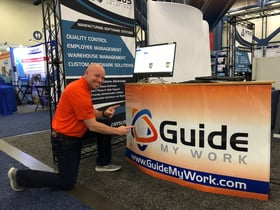 Guide My Work offers many of the same benefits as our full-blown MES without the complex configuration, installation and cost. This subscription-based software offers:
Visual Work Instructions with images, videos and sound
Integration capabilities for PLC's, torque tools, printers, barcode scanners and more
Historical reporting and real-time feedback
All this for only $3 per day/per station!!
Visit www.GuideMyWork.com for more information and to sign up for exciting product news and releases.
---
Didn't get a chance to make it out to Houstex? No problem! Check out our list of upcoming trade shows and events for your chance to see Nysus products in action:
Nysus Solutions Open House - April TBD - Maumee, OH Office
Eastec - May 14-16, 2019 - W. Springfield, MA https://easteconline.com
AMTS - Oct. 16-17, 2019 - Dayton, OH https://daytonamts.com
Southtec - Oct. 22-24, 2019 - Greenville, SC https://southteconline.com
Automotive Testing Expo - Oct. 22-24, 2019 - Novi, MI www.testing-expo.com/usa/EN
Contact sales@nysus.com for more information and FREE Show Passes!
---
Got Questions? Contact the Nysus Solutions Sales Team Today!
sales@nysus.com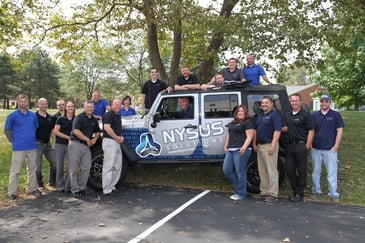 (877) 830-8624 x 5
www.nysus.com
www.guidemywork.com
David Crowley - Director of Business Development
dcrowley@nysus.com
(877) 830-8624 x 707
Emily Evener - Sales & Marketing Coordinator
eevener@nysus.com
(877) 830-8624 x 709
---
Calling all industry reps, equipment suppliers and networking organizations!! Nysus Solutions is always on the lookout for potential partnerships within the manufacturing industry. Interested in learning more about how you can benefit from working with Nysus? Contact our sales department today!